Who we are: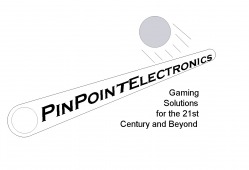 Pinpoint Electronics specializes in replacement circuit boards for pinball and arcade machines. We also offer custom engineering solutions for those with specific needs.
---
I am reorganizing my workshop and website over the next few months, please be patient as I update.

Flash Gordon strobe board review here at Pinballhead:

---
A few pictures from our booth at the Texas Pinball Festival.
Our first product, the Attack from Mars saucer board.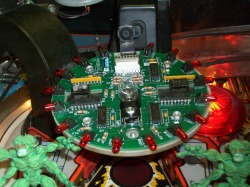 The original AFM saucer board was designed in 2006 to address the need for a high quality part for a very popular game. Original boards were failing from heat and vibration. Our replacement design runs almost 50 degrees cooler (no more brown spots on the saucer), uses less power and offers LED color options like green, white, blue, hyper orange, pure yellow, turquoise, purple and even pink!

Like all Pinpoint products, it comes with a one year warranty on materials and workmanship.
---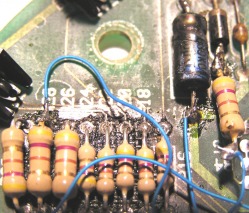 This is a 'repaired' original board. You can see the heat from the resistors has actually burned the traces off the board! No heat generating resistor farm on the Pinpoint board.
---